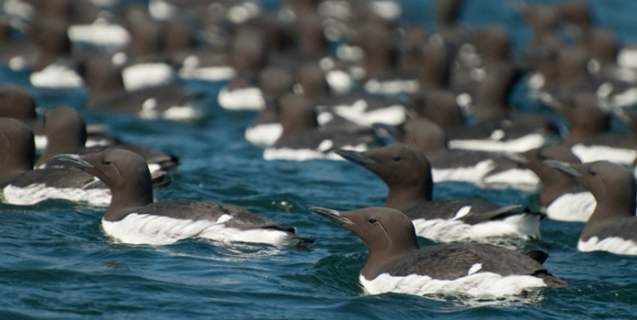 Nesting Birds of Gull Island: WEBCAM
Common Murres raft up at Gull Island, Kachemak Bay, Alaska. Photo Aaron Lang.
We absolutely love where we live, work, and play. Beautiful Homer, Alaska is set on the north shore of Kachemak Bay, home to thousands of nesting seabirds, including Common Murre, Black-legged Kittiwake, Horned and Tufted Puffin, and Pelagic and Red-faced Cormorant. The largest breeding colony in the bay is on Gull Island, about four miles from the end of the Homer Spit. It is one of our favorite birding locations! We're excited to announce that we can now share this site with you in the comfort of your own home. The Pratt Museum's webcam has just gone live. So if you can't make it to Homer this summer, you can still check out some of the action on Gull Island.
Edit: The Gull Island web cam has been taken down for the season. It will return in May 2018 and we'll let you all know about it when it's live again!