Rafting through Alaska's Arctic National Wildlife Refuge.
Photo Aaron Lang.
This shy and little known species spends its entire life in the extremely remote valleys in the Brooks Range, the northernmost mountain range in Alaska. Inaccessible areas are Wilderness Birding Adventures' specialty. Aside from the allure of the Gray-headed Chickadee, the opportunity to travel through and bird in one of North America's most remote and inaccessible wilderness areas is draw enough for many birders. While we've been birding this region for nearly three decades, we continue to enjoy new discoveries on nearly every adventure—we go to look for chickadees, but always end up finding so much more.
We formerly offered a backpacking trip to find the Gray-headed Chickadee and enjoyed eight consecutive years of success after discovering the site. In 2005, the inevitable happened: we missed the bird on our backpacking trip. We did see them, however, later that summer on a rafting trip in a new location farther downriver. So beginning in 2006, we changed our chickadee backpacking trips to rafting trips, and we've been successful in finding at least one bird on every trip since.
We'll travel about 50 miles of river and cover several good habitats for Gray-headed Chickadees. On this eight day adventure we hope to dedicate two full days to searching in proper chickadee habitat. Other birds of note that we may see include Smith's Longspur, Eastern Yellow Wagtail, Northern Wheatear, Upland Sandpiper, Northern Shrike, Peregrine Falcon, Arctic Warbler, and Wandering Tattler. Dall sheep, grizzly bear, wolf, moose, caribou, red fox and wolverine are possible.
Rafting conditions will consist of mostly Class I and II waters, with two miles or so of Class III whitewater. Our main obstacles will likely be low water conditions, periodic flooding, and lingering ice. Depending on conditions, we could encounter some necessary portages, or have delays imposed upon us that would prevent us from spending the planned amount of time in chickadee habitat. What would a true adventure be without some unknowns? Participants need to be in good health and good physical condition, pack a positive attitude, and be capable of handling a variety of conditions. This trip is not for everyone; however, in spite of or even because of these challenges, the trip offers countless  rewards for those who travel through the Arctic National Wildlife Refuge.
Click here to download the trip information packet.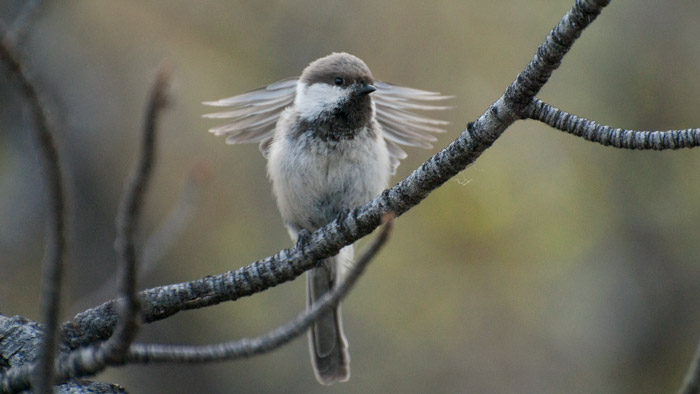 A Gray-headed Chickadee stretches after a busy morning of catching bugs for two hungry chicks. Photo Aaron Lang.